Last Updated on May 29, 2023 by Kapuluan

From the top of your scalp to the spaces between your finger toes, each inch of the skin surface relies on proper moisture to retain optimal health and elasticity and for healthy aging.
So, why not try a natural coconut oil moisturizer? 
The skin is the body's largest organ and the shield that keeps us safe from harm. Being on the front line of varying weather conditions, as we are exposed to sun, water, and varying temperatures, the skin is created to endure, protect, and regenerate.
The condition of our skin also heavily affects our appearance, with each change that it endures being visible on the skin's surface. As it is our shield from the outside world and what determines our appearance, the skin should be nurtured, protected, and delicately taken care of.
The skin's most important thing to regenerate and maintain its good condition is moisture. Enough moisture helps the skin retain proper elasticity, essential for preventing and eliminating damage from skin cracks that can result in skin conditions and wrinkles. The skin is prone to damage across the body, from the parts we see and care about their appearance most to the ones we do not as much like the skin of our scalp.
Moisturizing regularly helps the skin stay young, maintain elasticity, and regulate its complexion by reducing extremely dry or oily skin, thus eliminating skin conditions and acne. Both hydrating on the inside and using effective, all-natural moisturizer all over your skin on the outside should be essential parts of your skin health and beauty routine.
What Makes Coconut Oil Moisturizer Excellent for Skin Health?
Coconut oil is 100% fat, about 90% saturated fats. The saturated fats are presented as medium-chain fatty acids in the form of lauric acid (highest in content), caprylic acid, decanoic acid, and myristic acid, which are very beneficial for the skin.
Due to their tiny molecular structure, these medium-chain fatty acids can easily penetrate the top layer of skin cells and contribute to positive change. Among several different fatty acids contained in coconut oil, here are two of the most beneficial when it comes to skincare.
Lauric acid is a fatty acid rarely found in nature and is praised for its antibacterial and antifungal properties. Being able to kill harmful bacteria, lauric acid is beneficial for reducing skin redness and skin outbreaks and lowering/preventing inflammation.
Caprylic acid is an effective remedy for eczema and dry skin. It also contributes to even skin tone.
The high penetration allows for deep moisturizing of all mentioned fatty acids in coconut oil. Other beneficial effects of each of the fatty acids contribute to skin health, reducing skin problems, which also helps in maintaining highly moisturized and nurtured skin.
Coconut oil is an entirely natural and excellent skin moisturizer for all skin types and body parts. Being completely safe to use, natural coconut oil moisturizer is extremely efficient and excludes the possible side effects and irritations that are common with artificial moisturizers.
To deliver all of the benefits and avoid using harmful ingredients on your skin found in some processed types of coconut oils, it's of utmost importance to use raw, unrefined, organic coconut oil for skin care. Be sure always to make a mindful choice to be 100% sure you are using an all-natural healthy moisturizer as an alternative to artificial products.
Coconut Oil for Face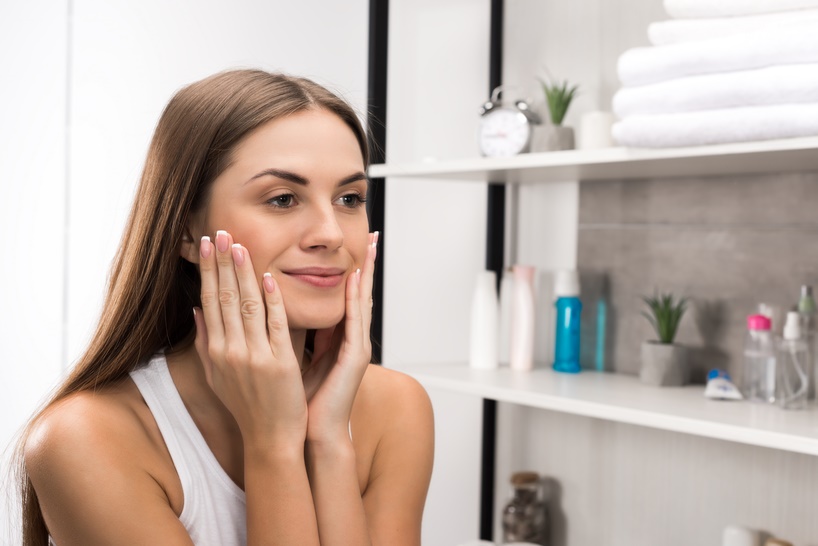 The skin on the face is the most sensitive and requires delicate care. Regardless of skin complexion, regularly applying moisturizer is of utmost importance. Highly moisturized skin contributes to a fresh and healthy appearance while helping the skin deal with problems specific to your complexion.
Coconut oil is a safe and efficient alternative to artificial topical creams, applicable to all skin complexions without a single harmful ingredient included.
Coconut oil moisturizer is excellent for dry skin as it penetrates deeply into the tissue, restoring the top layer and curing the dry patches on the skin's surface. Not only does it instantly smooth the skin due to its high regeneration effect, but it can also provide permanent restoration of dry skin with regular application. Making the skin smoother with dewy coconut oil helps cure dry skin and improve the look of facial skin.
However, is coconut oil good for your face if you have oily skin?
Although some people believe that using coconut oil moisturizer on oily skin will worsen its condition, the truth is, using an effective moisturizer will help the skin regulate the excess oil. Daily application of coconut oil moisturizer reduces the chance of developing excessive oiliness.
More importantly, people with oily skin complexion will enjoy the benefits of lauric acid, the fatty acid that kills bacteria and reduces inflammation, thus reducing any outbreaks of acne, redness, and irritation. That being said, not only is coconut oil the perfect moisturizer for oily skin, but it will also help decrease the greasiness of the skin and eliminate acne and spots.
The deep penetration of coconut oil regenerates the skin cells and provides a benefit that aligns with universal priorities to all regardless of age – rejuvenation and anti-aging. The deep moisturizing effects primarily help the skin regulate issues from dry or oily skin.
When applied daily and absorbed into the skin's connective tissues, coconut oil reduces the appearance of fine lines and wrinkles by keeping the connective tissues strong and supple.
Despite its extreme sensitivity, many regularly use chemicals on facial skin, especially when applying makeup. The ideal solution to dealing with the negative effects of makeup and makeup cleansers is to use coconut oil as a makeup remover and as a skin topical after you've rinsed all the makeup from your face. This will increase the moisturizing effect while eliminating the use of harsh chemicals that efficiently remove makeup but seriously damage the surface layer of the skin.
Raw, organic coconut oil all over the face and lips will moisturize, nurture, and heal facial skin and work wonders for chapped lips.
Coconut Oil for Body
Coconut oil is one of the few natural cosmetic products that can be used as a moisturizer on the entire skin surface from head to toe. It is safe to use and highly beneficial for your body's skin as it is for the facial skin.
When used as a substitute for artificial skin lotions and creams, coconut oil provides great moisturization, regenerates skin, promotes healing, and improves elasticity and health. All of this results in healthy, glowing, and younger-looking skin in all body areas.
When in solid form, coconut oil is much more convenient to use as a body topical. To apply properly, take a small amount and massage it over the skin surface for several minutes. The oil will penetrate the skin tissue, soothing the skin instantly. It's best to apply on clean and dry skin.
Using coconut oil regularly also controls the population of bacteria in the sebum that causes acne, blackheads, and whiteheads. Applying coconut oil can also cure yeast infections, ringworms, flaky skin, and ingrown hair.
Coconut oil moisturizer as a body topical can be used in its natural, raw form without any additions or adjustments. However, some popular methods suggest whipping the coconut oil to create a more convenient-to-apply coconut oil moisturizer. Whipped coconut oil doesn't harden when cold, making it far more convenient to use while retaining the same properties and benefits.
As per your preference, raw coconut oil can be mixed with essential oils to increase its benefits or simply for you to enjoy your favorite fragrance. Essential oils can be added to whipped coconut moisturizer or regular raw coconut oil to enhance its properties and add an irresistible aroma.
As mentioned before, coconut oil can deeply moisturize the skin, not only when used as a topical but also as a substitute for products that may compromise skin health and hydration. It is an excellent substitute for many beauty and skincare products but can also replace artificial shaving cream or foam.
Coconut oil moisturizer as a shaving balm prevents the skin from razor damage and prevents irritation that commonly occurs after shaving. Coconut oil can be used as the main ingredient in homemade scrubs to exfoliate and deeply cleanse the skin while leaving it smooth and moisturized.
Coconut oil also finds its application in nail care, for the cuticles on both fingernails and toenails, in curing dry elbows, restoring dry heels, and for recovery massage.
Coconut Oil for Scalp and Hair
As effective as a skin moisturizer, coconut oil is also excellent as a hair moisturizer. Although applying coconut oil on the scalp and hair might not sound very appealing, the benefits the scalp, skin, and hair will enjoy are numerous and worth the initially greasy experience.
Applying coconut oil on the scalp and hair can help in hair growth and promote scalp health by moisturizing the skin and regulating sebum, reducing dandruff. Raw coconut oil will soften dry and damaged hair, effectively dealing with the damage of dyed hair and split ends while contributing to a shiny, silky-smooth appearance.
Coconut oil can be included as the main ingredient in homemade hair masks mixed with additional natural components to increase benefits for a moisturized scalp and healthy hair.
See what you can do with a coconut oil moisturizer today!