Last Updated on March 15, 2023 by eunice
Ready for a hair-raising revelation? You can put down multitudes of products and effort-filled, expensive routines and step up your hair game with these coconut oil hair hacks.
Yes, with one simple substance—raw, organic coconut oil—you can take care of your hair health needs.
The pursuit of a good hair day is serious business: in the U.S. alone, a woman will spend $55,000 in her lifetime and endless hours to achieve the perfect look.
How Coconut Oil Works for Hair Care
Comprised of essential fatty acids and vitamins, including lauric acid, capric acid, vitamins E, K, and iron, coconut oil penetrates the hair shaft more deeply and is more easily absorbed than other oils or synthetic conditioners. Its antibacterial and anti-inflammatory nature helps safeguard your scalp against itchiness and a variety of infections, eliminating dandruff and keeping your hair healthy and strong.
Kiss the drying and damaging alcohol, silicones, and other toxic chemicals found in hair care products that strip your hair and aggravate your scalp goodbye, and say hello to healthy, organic raw coconut oil. Put it on overnight for deep conditioning and split end repair, or dab a bit on to naturally tame frizzy hair. And when you're ready to roll for some fun in the sun, toss a touch in your tresses for built-in SPF protection.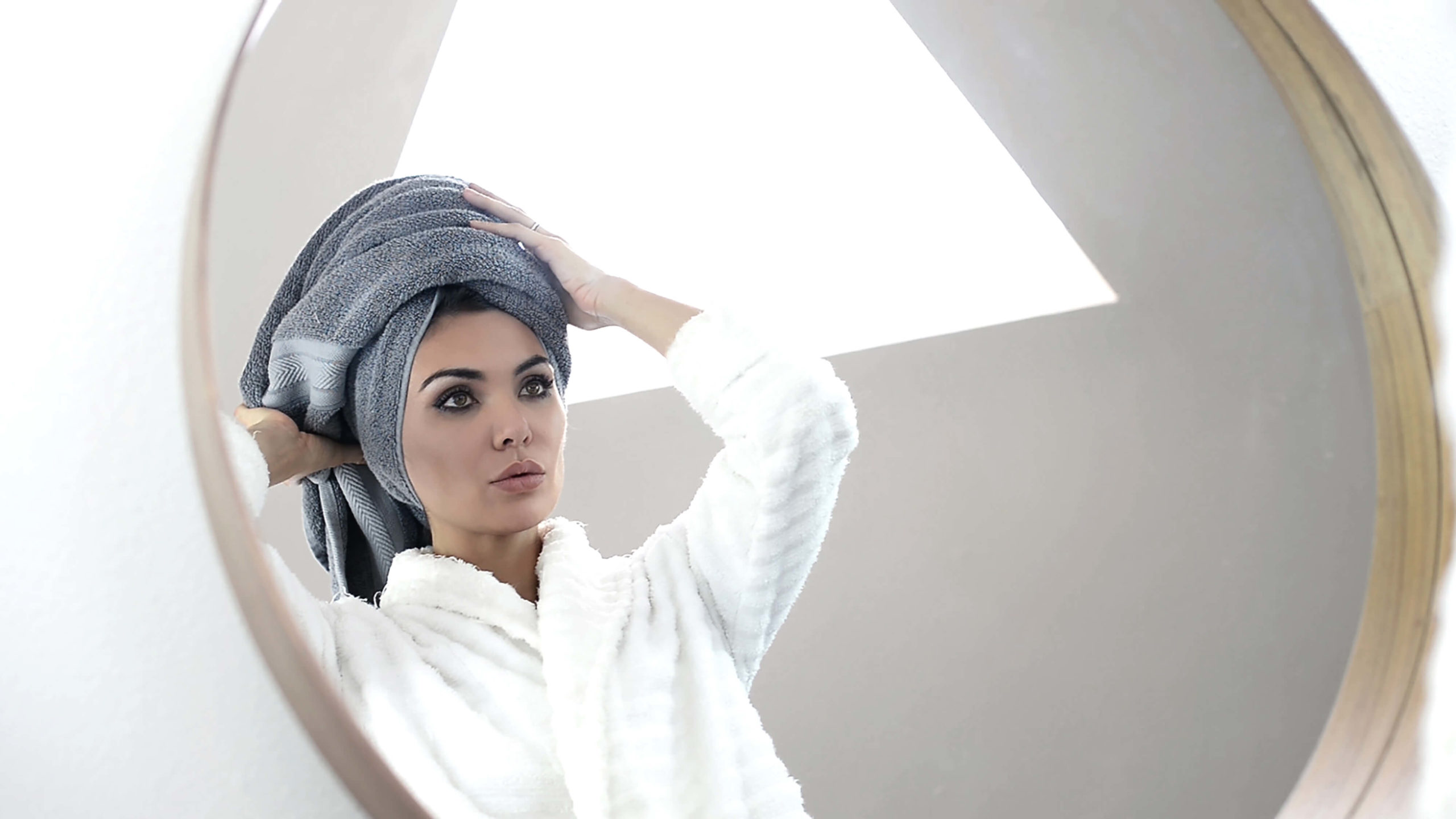 Coconut Oil Hair Hacks
We asked beauty expert Tienlyn Jacobson for her top three favorite coconut oil hair hacks. Color us inspired by her easy and awesome coconut oil for hair tips and techniques:
1) Give your hair an all-natural coconut oil mask
Tienlyn has a quick and simple homeopathic recipe for a deeply moisturizing hair mask that combines coconut oil with honey, which is a powerful humectant that pulls in moisture from the air, and apple cider vinegar, which works as a natural de-tangler and also removes build-up from old products. If you have damaged hair or just want luxurious soft and silky locks, try Tienlyn's hair mask:
2 TBSP raw, organic coconut oil (melted so it's in liquid form)
1 TBSP raw apple cider vinegar
I TBSP organic honey
Mix together the ingredients and apply them to your hair.
Let it sit for 15 or 20 minutes, or up to an hour if you have very dry hair.
Shampoo with a gentle, natural cleanser to remove the mask.
And don't bother conditioning your hair because you've already done it!
2) Grow your hair faster with a coconut oil scalp massage
Who doesn't love a head massage? Give yourself a nice scalp rub with coconut oil, and a pat on the back for taking great care of your hair. Not only does the massage help stimulate circulation to encourage healthy hair growth, but the coconut oil also strengthens your mane so it can grow longer and thicker, faster. Also, its antibacterial properties and vitamins cure scalp conditions like dandruff, and nourish your hair from the roots.
3) Get a cool, beachy wave look with no heat
Heat and styling tools are some of the worst, most damaging appliances you can use on your hair… yet most of us rely on them to look our best – until now.
All you need for beautiful beachy waves is to apply a dollop of coconut oil to wet or dry hair before bedtime, give yourself a French braid (or two), and turn in for the night.
In the morning, you'll take out the braid(s), and voila! Effortless, beautiful wavy hair that looks like you fussed – and of course we'll never tell.
Using coconut oil makes it easy and affordable to have gorgeous, lush, shiny, great smelling, and best of all, healthy hair. Just be sure to use raw, organic coconut oil to maximize the nutritional benefits and amazing results.
Plus, this is a really quick and easy way to achieve beachy surf hair with all-natural ingredients. It only takes a few minutes to make!
Ingredients:
2 tbsp Raw Organic Coconut Oil
1 tsp Organic Aloe Vera Extract
1 tbsp of Pink Himalayan Salt
2 cups Distilled Water
Steps:
Combine all ingredients together and mix well
Place in a sterilized glass spray bottle
Shake well before each use
Spray onto slightly damp hair and scrunch your hair with your hands
What do you think of these coconut oil hair hacks? How do you use coconut oil for your hair? Give Kapuluan Coconut Oil a try for your all-around hair needs.