The sun is the ultimate source of life and the main source of vitamin D, a micronutrient essential for human's optimal health and wellbeing. Sunshine is undeniably a source of happiness, induces positive mood, and the only natural way of achieving a glam, bronze tan!
Sun exposure is healthy and very much needed, but staying for prolonged periods under the sun in the middle of a hot summer's day without proper protection can cause serious harm to the body. Sun exposure should be limited to short intervals in the morning or late afternoon when the sun rays are weak and temperatures are pleasant.
When exposed to direct sunlight, our skin is exposed to invisible UVA and UVB rays. They penetrate deep into the skin layers, either tanning or burning followed up by damaging and killing the skin cells. Depending on the duration of exposure, the sun can induce gentle changes to your skin tone or damage the skin by burning it. Despite the effects of recent sun exposure, coconut oil can help you both enhance and preserve your golden bronze tan or help you soothe your sunburn when you've spent too much time having that beach fun.
After-sun skincare is essential for the skin to be properly nurtured and moisturized after being exposed to higher temperatures and direct sunlight. Especially if one is experiencing mild or severe sunburns, supporting the skin's healing process is required for proper regeneration.
The Benefits of Using Coconut Oil for After-sun Care
Coconut oil is a source of fatty acids beneficial to the skin that provide proper skincare through their deeply moisturizing, healing, nurturing, and rejuvenating properties. All these magnificent properties make coconut oil very beneficial for sun-kissed and sunburned skin that requires extra attention and care. The beneficial properties of coconut oil when used as after sun lotion help the skin heal, regenerate, and achieve glowing skin.
Deep Hydration
Coconut oil is composed of medium-chain fatty acids with a tiny molecular structure that allows for the oil to penetrate deep into the skin's connective tissue, delivering the beneficial moisturizing effects deep in the skin cells. The moisturizing effects of coconut oil provide thorough hydration and promote healing of the damaged parts of the skin cells. The proper hydration that coconut oil provides is essential for keeping the skin in optimal health after sun exposure and preventing dehydration that can result in permanent skin damage.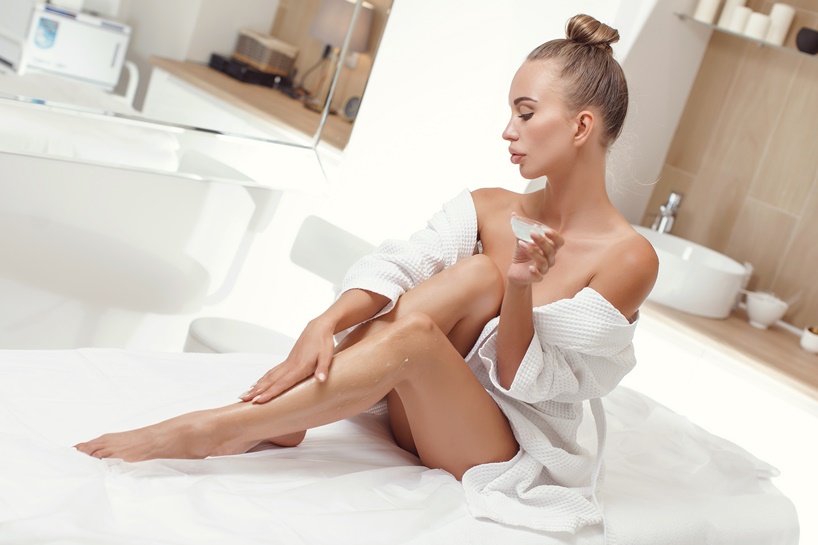 Enhanced Tan
When the body is exposed to weak sun rays, it can result in slow but healthy tanning. Applying coconut oil after sun exposure will enhance the tanning process and help preserve a bronze and dark tan. Changes in skin color occur on the top layer of the skin surface that quickly becomes a dead skin layer as it is constantly replaced with new skin cells. To help preserve the tanned surface layer for a longer time, the skin requires regular hydrating and deep moisturizing. Regularly applying coconut oil as an after-sun will regenerate and moisturize the top layers of the skin, preventing them from peeling and having your bronze tan replaced by new skin layers in your natural skin color. Using coconut oil as an after-sun will also prevent the varying pigmentation on different body parts and help you achieve even skin tone when tanning.
Ingesting coconut oil daily also helps in achieving a bronze tan as it contributes to more resilient skin that is less prone to sunburn!
Sunburn Relief
Sunburns are both painful and a serious threat to skin health. Despite the level of the burn, the itching, redness, and pain can be equally uncomfortable and the unpleasant feeling can last for days if not weeks. To help you soothe a sunburn, you first need a proper amount of moisture as the burned area is dehydrated. Additionally, your skin needs an anti-inflammatory remedy to reduce redness and proper support for the healing process to help the damaged skin cells regenerate faster. Thanks to the excellent benefits of coconut oil, coconut oil makes the best sunburn remedy.
Using coconut oil for sunburn will result in effective and fast healing. It's advisable to cool down the burned area first, with a wet towel or cold shower. After you manage to decrease the temperature of the skin, you can apply coconut oil all over the burned area. Penetrating deep into the top skin layer, raw coconut oil slowly restores the damaged skin cells. Deeply hydrating and moisturizing properties of the coconut oil regenerate the skin, support its healing, lower inflammation, and protect the fragile and super-sensitive skin from additional harm from external influences. Thanks to the specific fatty-acid formula, that includes lauric acid and caprylic acid which provide anti-inflammatory and antibacterial properties, coconut oil helps reduce itching, redness, and decreases swelling caused by the burn. Most importantly, coconut oil guards against additional infections that can occur on extra sensitive skin that has lost its protective layer, and additional damage if it comes into contact with bacteria.
The dense structure of the oil that comes from the saturated fats, will create a protective layer over the burned skin that will decrease the unpleasant feelings of wearing clothing. Penetrating deep into the damaged cells, the powerful fatty acid formula of the coconut oil induces fast and efficient healing by regenerating the skin cells deep in the skin layers, preventing any permanent skin damages to the burned area.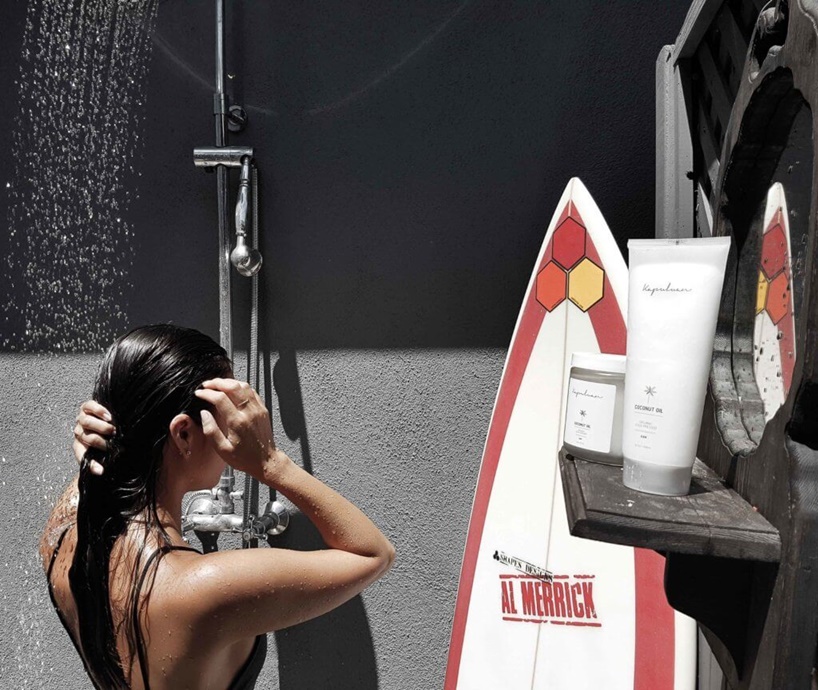 Completely Natural and Chemical-Free After-Sun Care
Raw, unrefined, and organic coconut oil is a safe skincare product that can be used on all body parts and the facial skin. It will deliver all of the needed care and protection the skin requires after being exposed to the sun, without any harmful side effects. It is of utmost importance to choose coconut oil for skincare that is unrefined, raw, and organic, in order to be sure it does not contain any additives that may compromise the quality of the oil and decrease the expected beneficial effects.
Contrary to artificial after-sun products that contain chemicals in its recovery formula, coconut oil is a completely natural remedy for sunburn and skin hydration. While artificial compounds and chemicals may provide instant relief, they rarely contribute to the process of healing. Artificial compounds may cause additional irritation to the extra sensitive skin that has been damaged by sunburn. When the skin is burned, the top protective layers of skin cells are damaged or eliminated by the force of the UVA and UVB rays. In such cases, what comes in contact with the skin can easily penetrate the body through the thin skin surface. Therefore, when sunburned skin is treated with artificial after-sun products, the chemicals included can easily penetrate the blood system and remain inside the body, causing additional harm.
On the other hand, raw, organic coconut oil can be used to heal damaged skin as a topical and as food that nurtures the body and helps induce the healing process from the inside as well as the outside.
It Has a Pleasant Tropical Smell
If none of the benefits above are useful or enticing to you, coconut oil is still worth using all over your skin for how it smells. If you are lucky to be sunbathing on a tropical beach, you can enhance your experience with the help of the pleasant coconut aroma provided by your excellent coconut oil after-sun. The coconut-aroma-induced memory of a lazy summer's day is instantaneous. With how coconut oil smells, the natural aroma of raw, organic coconut oil beats all artificial fragrances used in after-sun lotions.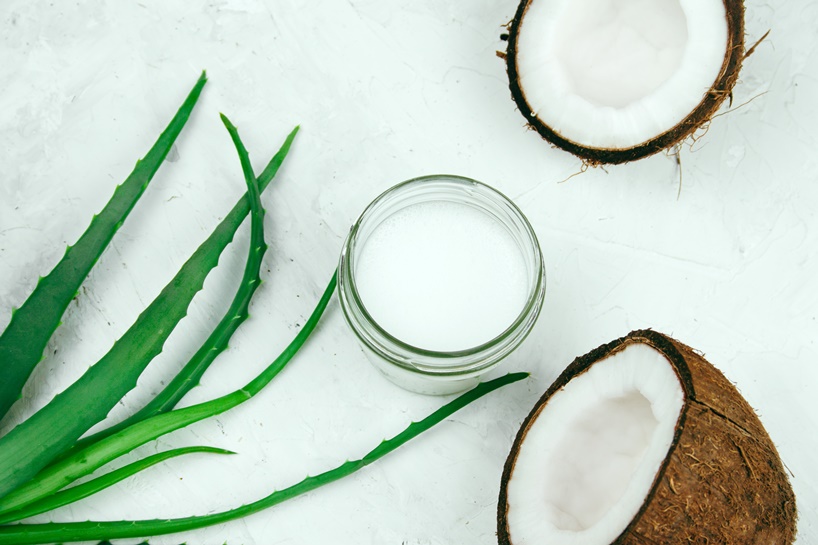 Homemade Coconut Oil After-Sun and Sunburn Remedy
To achieve an even more effective sunburn remedy and moisturizing formula for after-sun care, you can use raw coconut oil mixed with another powerful skin remedy and natural ingredient. Aloe Vera gel found in the leaf of the plant is a miracle full of beneficial moisture for the skin, that when mixed with coconut oil provides a magnificent cure and hydrating formula for optimal skin health and glow.
To prepare this after-sun care formula you should use raw, organic, and unrefined coconut oil and the thick gel taken out of a fresh Aloe Vera leaf. Put both substances into a blender to achieve an even mixture. Once done, store it in a container. You can store the after sun aloe-coconut oil mixture in the fridge so you can enjoy an additional cold splash to soothe your sun-kissed skin, helped by the deeply hydrating, rejuvenating, and tan-protecting formula of your homemade after-sun miracle. When used as a sunburn remedy, the coconut oil and Aloe formula will instantly eliminate skin inflammation and recover the dehydrated skin with a high amount of beneficial moisture that will regenerate the skin cells quickly and efficiently.