When using any type of beauty product on your skin, it is incredibly important to do your research.
This is especially important with coconut oil beauty products.
Why? Well, your skin is your largest organ, and it absorbs most things you put on it. You want to be sure that you know exactly what it is that you are putting onto your skin and into your body.
In the end, everything you put in and on your skin effects your overall health.
Since there are so many great benefits to using coconut oil beauty products, and the demand for anything coconut has skyrocketed over the past 5 years, many brands like to tout themselves as using coconut oil in their products, but it's important to be aware of what type of coconut oil is in your beauty products.
If you are looking to purchase coconut oil beauty products, make sure what you buy says 100% virgin coconut oil or raw coconut oil on the label. The products that only list coconut oil, or cocos nucifera on the label, almost always use a very poor quality of oil that is called Copra. A coconut byproduct, copra is made from often rotten and moldy coconuts which dry in the sun on the side of the road.
The dried coconuts are then refined with chemicals, bleached, deodorized, and processed to kill bacteria and create a market-ready coconut oil. Copra is yellow, smells awful, and is impure, with little nutritious or beneficial component left. The reason why copra coconut oil is so widely used, is because it is very cheap, and it lathers exceptionally well. Why else? Because most people love coconut!
However, the low cost of copra coconut oil starts with coconut farmers. Despite coconut being the Philippines most abundant and valuable resource, over 60% of coconut farmers live in extreme poverty. To learn more about the devastating effects of copra to coconut farming communities, take some time to watch our award-winning documentary Kinabuhi, which was featured by the United Nations last year.
Health Benefits of Coconut Oil Beauty Products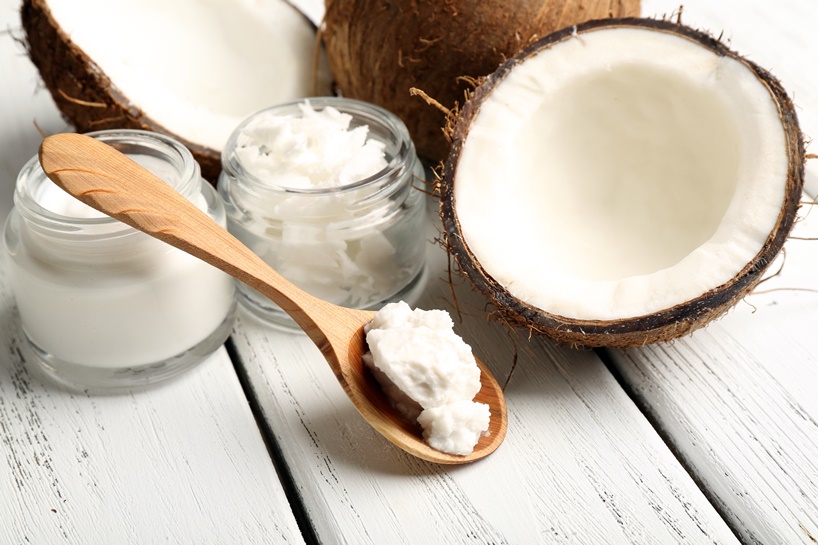 Coconut oil has an extraordinary amount of amazing health and personal care benefits, but only if you get the right coconut oil or coconut oil beauty products.
Coconut oil has been used by Pacific Islanders for thousands of years and it is so versatile that it can be used on the skin, hair, lips, teeth and in so many different ways.
If you already use or are looking to start using coconut oil beauty products, but are not sure if the product you are using is legit, be sure to do a little research.
What should you find out about the coconut oil beauty products that you are using? Here are 3 things to check on:
1. Check to see if the ingredients say 100% virgin coconut oil or raw coconut oil. If it just says coconut oil or cocos nucifera, you're probably using a copra product.
2. If you are unsure, ask the company what type of coconut oil they use in their products and where the coconut oil comes from. You can also ask what production method they use for their coconut oil and if heat is used to extract the oil. *Most brands just use a co-packer to source ingredients and create their products, so they may not even know.
3. Purchase your coconut oil and coconut oil beauty products from a company that you trust. All Kapuluan Coconut oil is raw, cold -pressed organic 100% virgin coconut oil. If you know the company you are purchasing from, you are more likely to know exactly what you are getting.