Coconut oil beauty treatments are a great way to revitalize your normal regimens, especially if you're looking to "spring clean."
Mostly everyone loves springtime, because the temperatures rise and become more pleasant. The trees green and flowers blossom, and renewal is in the air.  We shake off the winter cold and the problems that come with it, especially where beauty is concerned.
Coconut Oil Beauty Treatments from the Tropics
In most of the areas of the world, people go through these harsh climates and conditions that truly wreak havoc on skincare, haircare, and health.  No wonder people who live there bundle up and cover themselves in bulky woolens, down jackets and massive boots.  But how many of those people start dreaming of the time where they can get back into cotton shorts, short-sleeve shirts, and slinky dresses again?
Of course, those people lucky to live in warm or temperate regions like the tropics don't have to worry about seasonal wardrobes.  It's spring and summer year-round, so they can keep to the same beauty routines as well.  Undoubtedly, coconut oil beauty treatments play a significant part.
To usher in springtime, why not take a cue from these residents in the tropical climates and refresh your routines with these coconut oil beauty treatments using high-quality coconut oil?
Caring for Your Face
As you want to get out the door faster for the great springtime weather, you need a faster but effective way to clean your face.  Instead of using a harsh soap or an expensive cleanser, try taking a bit of virgin coconut oil and liquefying into your hands.  Then gently work it into your face, paying careful attention to avoid the eyes.
After your skin has absorbed the coconut oil, place a damp washcloth soaked with warm water over your face. Wipe off the remaining oil, then splash a cold water to close your pores.  Not only will this treatment give you softer skin, it will also help with acne breakouts.
Removing Your Makeup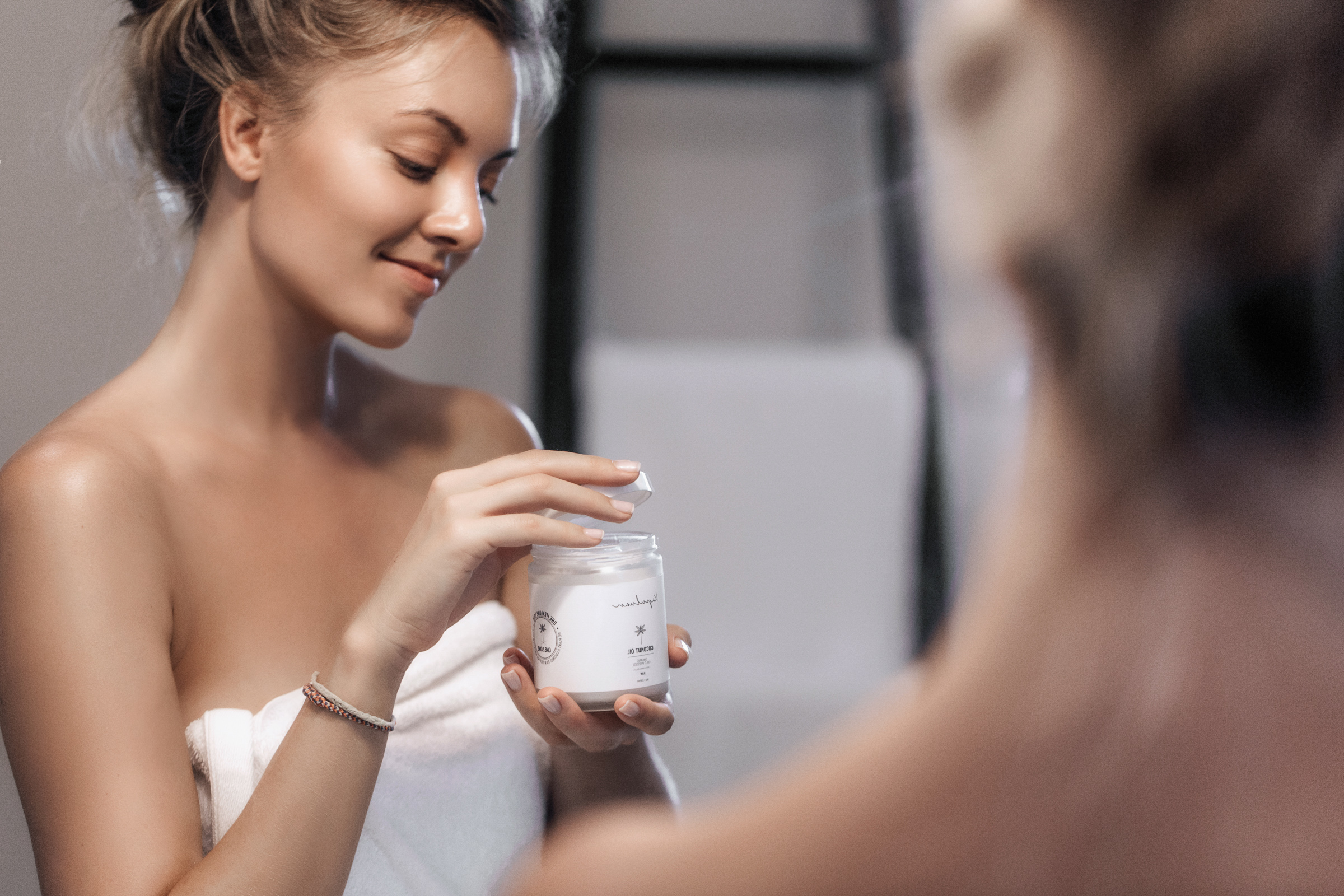 Why use a heavy cold cream like your grandmother used to take off your eyeliner, mascara, and the rest?  A lot of those products contain ingredients that would be more expected in a can of motor oil than a beauty product.  Reach for some coconut oil instead, which can easily remove the most stubborn makeup, naturally and safely.
Simply take about a teaspoonful or a little less and work it into the areas in need of removal.  Gently wipe off the oil with a tissue or cotton pad and wash your face as normal.
Moisturizing Your Body
Nothing says springtime beauty more than fresh and healthy looking skin. That's because when the weather gets warmer, you naturally want to wear less and show off more of it.  Making sure that you're well hydrated on the outside ensures that you'll be looking good.
There are several ways you can incorporate spring coconut oil beauty treatments into the moisturizing part of your skin care routine.  Simply rub a small amount on dry hands after you've washed them or even a tiny bit on your face if it's needing a little love.  After your shower or bath, emulsify some in your hands and slather it over your just-washed skin.  You'll find that it absorbs right away and won't feel greasy, especially if you blot the excess with a bath towel or damp washcloth.
Shaving
Along with wearing lighter clothing, you'll probably shave your legs more often. If you already have a jar of coconut oil, you won't need another shaving cream or lather up with potentially drying soap. If you shave while you shower, you might want to carry out this routine either afterward or apart from your showering.  That's because the liquefied oil will be slippery, and you likely should not stand while you shave to be safe.
Sitting on a shower ledge or on the side of your bath, take a quarter size amount of coconut oil and rub it over your legs. Wash your hands before handling the razor, so you'll have a good grip. Shave them as you normally do and wash off any excess oil.  You will probably find that your legs are sufficiently smooth and may not need additional moisturizer.

Keeping Your Hair Manageable
We talked about revitalizing your lifeless and dry hair with coconut oil with a deep conditioning treatment in the post last month.  But you can do some quick hair fixes just using a dab on an everyday basis.  The most effective way is to tame fly-aways, and stubborn tangles that seem to have a mind of their own.
Only take a half-teaspoon or less, depending on the length.  Work it into your strands and comb it through.
Now that you've done spring cleaning on your coconut oil beauty routine, go out and enjoy the season!  Let us know of your favorite coconut oil beauty treatments!