We recently had a chance to sit down with Tienlyn Jacobson from ThoughtfulMisfit.com and learn about her favorite ways to use coconut oil.
Tienlyn is a fashion and beauty expert, producer, blogger, and an on-air host. Outside of beauty and fashion, her biggest passions are holistic living and renovating eco-friendly vacation destinations with her husband in Joshua Tree, where they reside.

What is your favorite coconut oil substitution?
When it comes to food, coconut oil is my favorite substitute for almost anything where you need fat. I don't eat butter, so I bake with it a lot, and I also used it to 'butter' my toast, which is hands down the most delicious thing in the world.
As for beauty, it's a pretty much all-purpose product for me. From face wash to moisturizer, it has been a total lifesaver! And believe it or not, you can actually use it as a deodorant as well – it's moisturizing and antibacterial so it kills odor.
The secret is sort of out with coconut oil and how beneficial it is. Are there any coconut oil substitutions or uses that you think would surprise people?
I think people often don't realize that you can use it in makeup application as well as skincare. I replace eyeshadow with coconut oil for one of my favorite low-key but high-impact makeup looks. I start with a bold, matte red lip, fill in any gaps in my brows with a shadow, add a few coats of waterproof mascara, and then finish off the whole thing by swiping a tiny dab of coconut oil over my lids.
It's kind of like a more subtle version of eye-gloss, which has become more and more popular recently, but it's more moisturizing and soaks into your skin a little as the day goes on so there's no stickiness, and way less running or traveling down the side of your face like you sometimes get with an eye-gloss.
I also love to mix my blush with a tiny bit of coconut oil for a quick lip color that's super moisturizing. Just apply your blush to your lips with a dry finger, and then dab coconut oil over it to smooth it out for a really pretty, subtle look.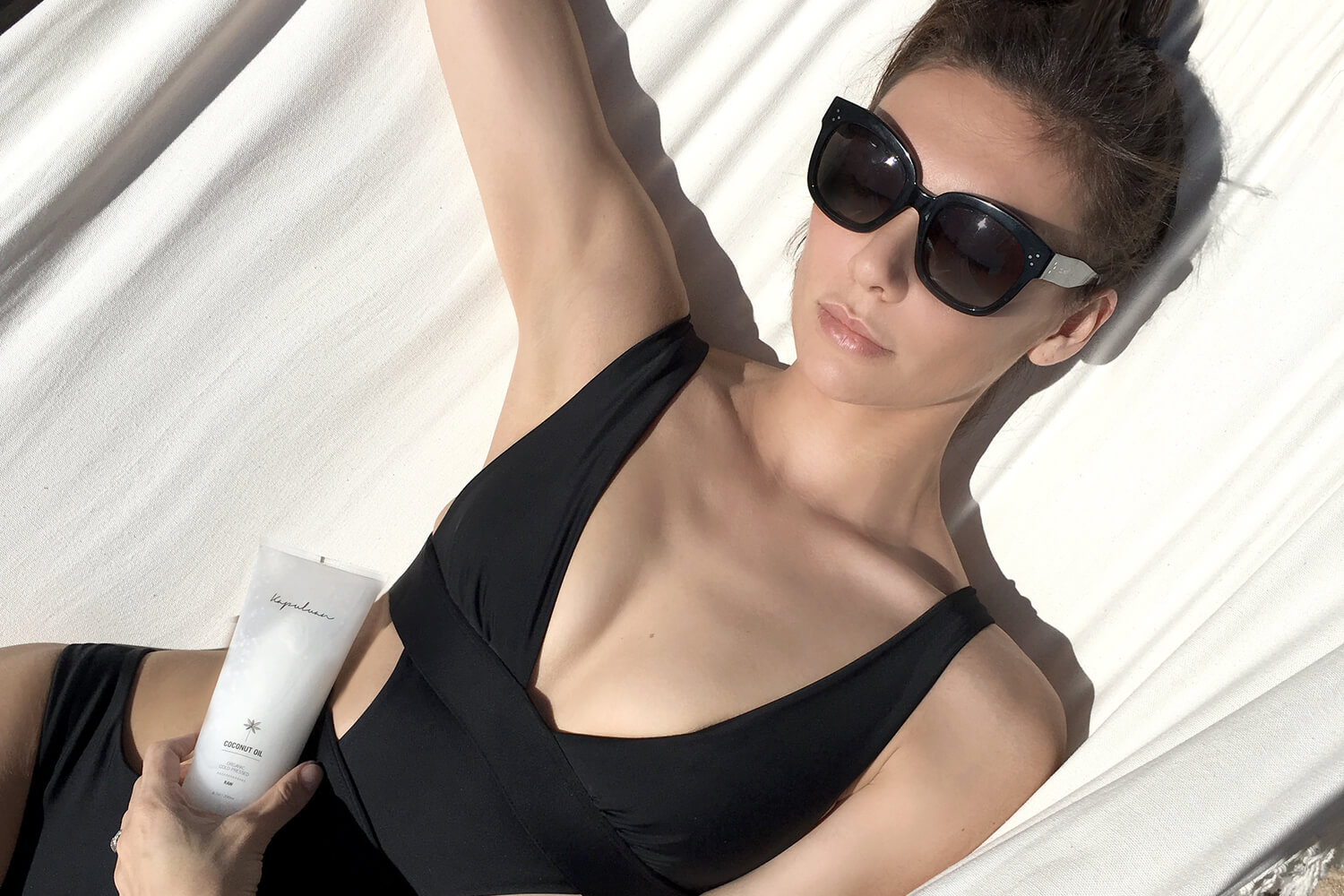 Do you ever cook with coconut oil? Any favorite recipes?
I think 85% of the things I make have coconut oil in them in some way or another. I cook a lot of Chinese dishes in a wok and because coconut oil has such a high smoke point, it's fantastic for a quick stir-fry.
My favorite treat, however, is to drizzle liquid coconut oil over the top of dairy free ice cream or sorbet – especially chocolate! It becomes hard the minute it hits the ice cream and the texture is really similar to the chocolate shell on a drumstick or chocolate covered ice-cream bar. Bonus – it kind of picks up whatever flavor you're eating so it feels super decadent, even though it's not at all.
Some people don't like to "take" coconut oil (on its own) as a dietary supplement. Do you have any cool ways you like to incorporate coconut oil into your diet where you don't have to take it on its own?
I ingest it a lot just because I cook with it everyday, but I do also like it with my coffee. Most people like to blend their coconut oil into their coffee when they combine the two, but I actually really love those first few sips when it's just melted on the top. It's rich and moisturizing for my lips while I'm drinking!
Do you have any favorite DIY skin or hair recipes that you create with coconut oil?
I've been applying it to the ends of my hair before getting into the shower and shampoo-ing my hair. It protects the ends from over-drying, but doesn't weigh the hair down.
One mask recipe I've been playing with is to mix bentonite clay with a little water and coconut oil for a face mask. You get all the benefits of bentonite clay, which will essentially detox your entire face, but the coconut oil prevents it from overly drying out your skin, which clay masks can often do.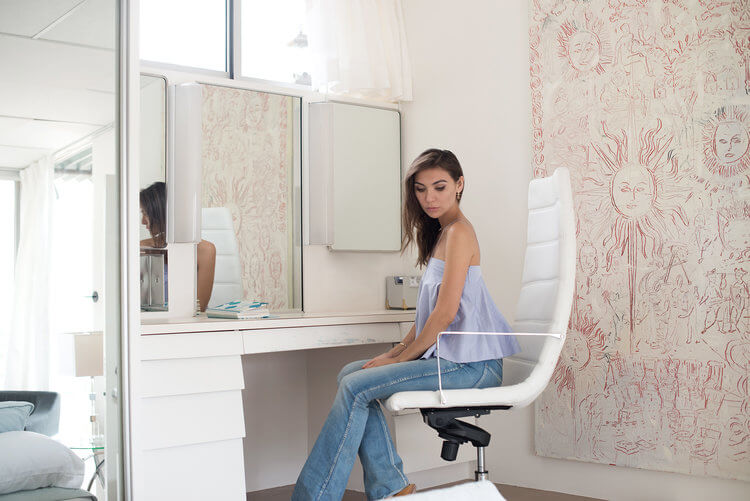 What types of things do you not like to use (unnatural, chemicals, etc.) that you've found coconut oil can replace?
I really like to mix coconut oil with baking soda instead of using toothpaste. I've recently started reading up on all the negative effects of fluoride (pretty scary actually – but the most vanity focused one is that it can actually contribute to aging) and have been actively trying to cut it out of my lifestyle, starting with my drinking water and toothpaste.
Do you have any health issues, ailments, common problems that you find coconut oil helps with?
I've had breakouts my entire life and have tried all the typical solutions from benzoyl peroxide, to oil-free moisturizers, to over exfoliating, but it wasn't until I started using coconut oils in place of my typical acne treatments that I really started seeing an improvement. At this point, I've researched enough that I can go pretty deeply into why coconut oil helps, but the quick summary is that coconut oil is antiseptic so it fights bacteria, and it also doesn't disrupt your skin's natural ecosystem – so you can truly heal your skin without opening up a whole other can of skincare concerns, which is what most acne products on the market tend to do today.