Kaizen is the practice of continuous improvement. It's a way to apply certain rituals to your life which keep you grounded and focused on the meaningful. Each ritual for continuous self improvement has its own purpose that can be applied in many different ways. I encourage you to make your own and apply them to daily life.
Kaizen is the Japanese word, meaning "change for the better."
As a company, our mission is to, "continually improve the lives and health of people, animals, and the planet with nourishment, balance, health, wellbeing, sustainability, and hope."
Kaizen is at the heart of who we are and our approach to benefiting the world through our products. 
How to Practice Continuous Improvement with Kaizen
Here are 10 rituals for continuous improvement best practices that will help with the kaizen process.
1. Ritual of Solitude

— set aside times of peace

2. Ritual of Physicality

— care for the body, care for the mind

3. Ritual of Live Nourishment

— nourish the body, nourish the mind

4. Ritual of Abundant Knowledge

— lifelong learning and self development

5. Ritual of Personal Reflection

— think to thrive and improve daily

6. Ritual of Early Awakening

— rise with the sun

7. Ritual of Music

— bring joy into the body

8. Ritual of Spoken Word

— mantras and affirmations

9. Ritual of Congruent Character

— timeless virtues

10. Ritual of Simplification

— focus only on the meaningful
If you observe ritualistic continuous improvement, these tools and techniques will radiate in all aspects of your life.
All you have to do is make the choice everyday to keep practicing.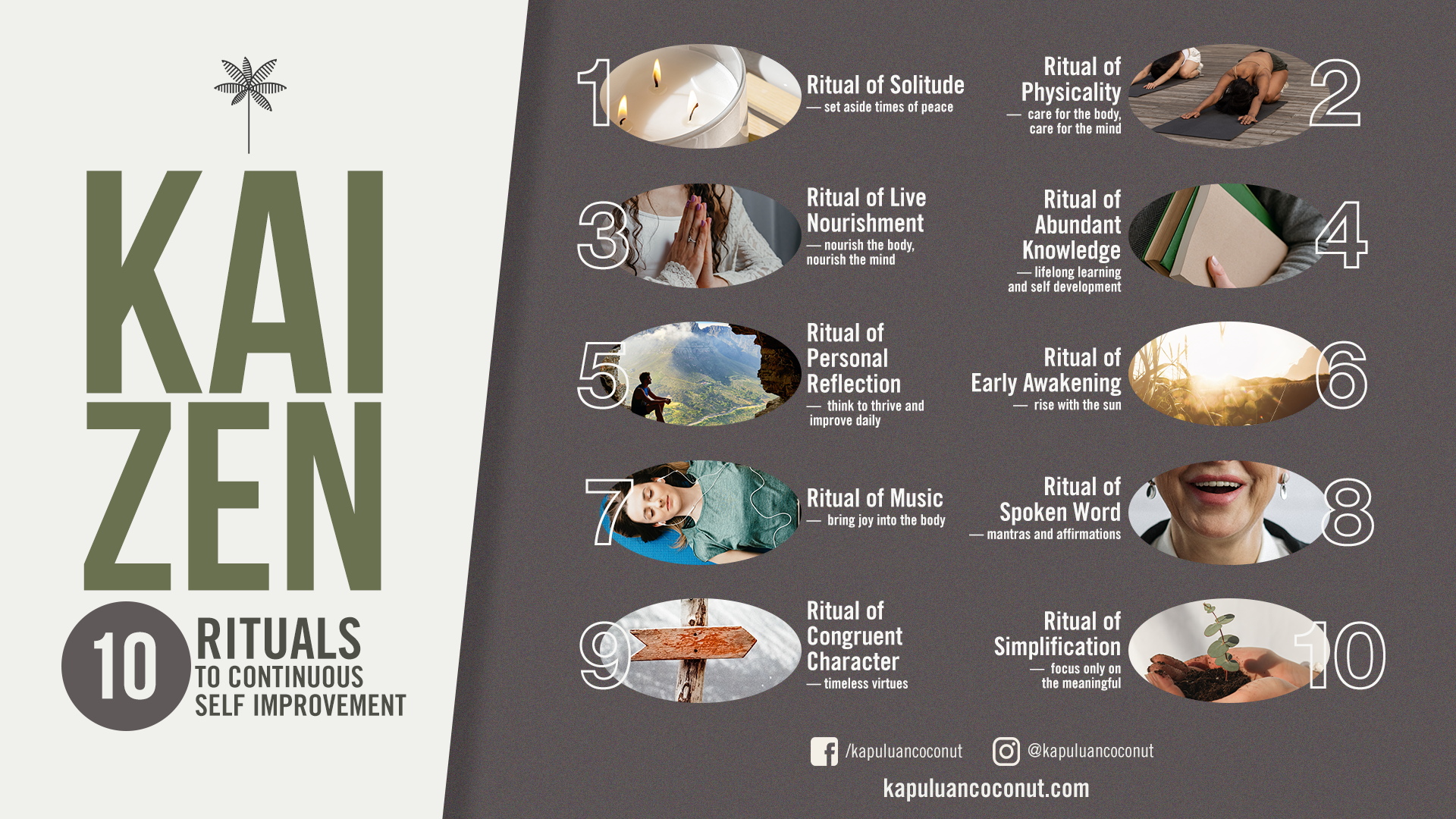 Benefits of Continuous Improvement
The way you incorporate Kaizen focuses into your life, or perhaps your life into Kaizen, is by channeling it through something you truly enjoy.
And this can be anything that gives you a sense of peace. For some it's working with their hands, like sculpting or woodworking. Maybe it's playing an instrument or being a part of a team sport. 
For others, it's being immersed in the natural world as a way to completely look inward for small improvements on a day-to-day basis. And for some, it's being with family and spending time with the ones you love.
All of this is part of a culture of continuous improvement.
But as a starting point, let's go to the tropical islands.
Kaizen Event: Surfing
For example, surfing has been called a "source" or some kind of life way by so many people who do it. These people believe it's because it taps you into a way of Kaizen, a "Kaizen Event." Some may say that it makes them a better person. It can also make them healthier and happier.
In this time-honored ancient activity, rising with the sun is easy because that's when the best waves are. Going for a surf gave the native islanders of Hawaii a time of peace and to connect with nature. It's a central part of Polynesian culture, both modern and ancient.
And while it can be peaceful, it can be extremely challenging. It gets your adrenaline pumping and gives you a great workout. But, it's a chance to focus and reflect all at the same time.
One of the things that keeps people coming back for more surfing, is that no two waves are the same, no two surf spots are the same, and it's one of the most challenging sports in the world. It's something that takes constant work to enjoy.
When you get better, you get more waves. And when you get better you get longer, better waves. It is ridiculously rewarding. But only if you can gut it out and get past the hard part.
That's what character building is all about.
This is what Kaizen continuous improvement is all about.
Kaizen as a Lifelong Practice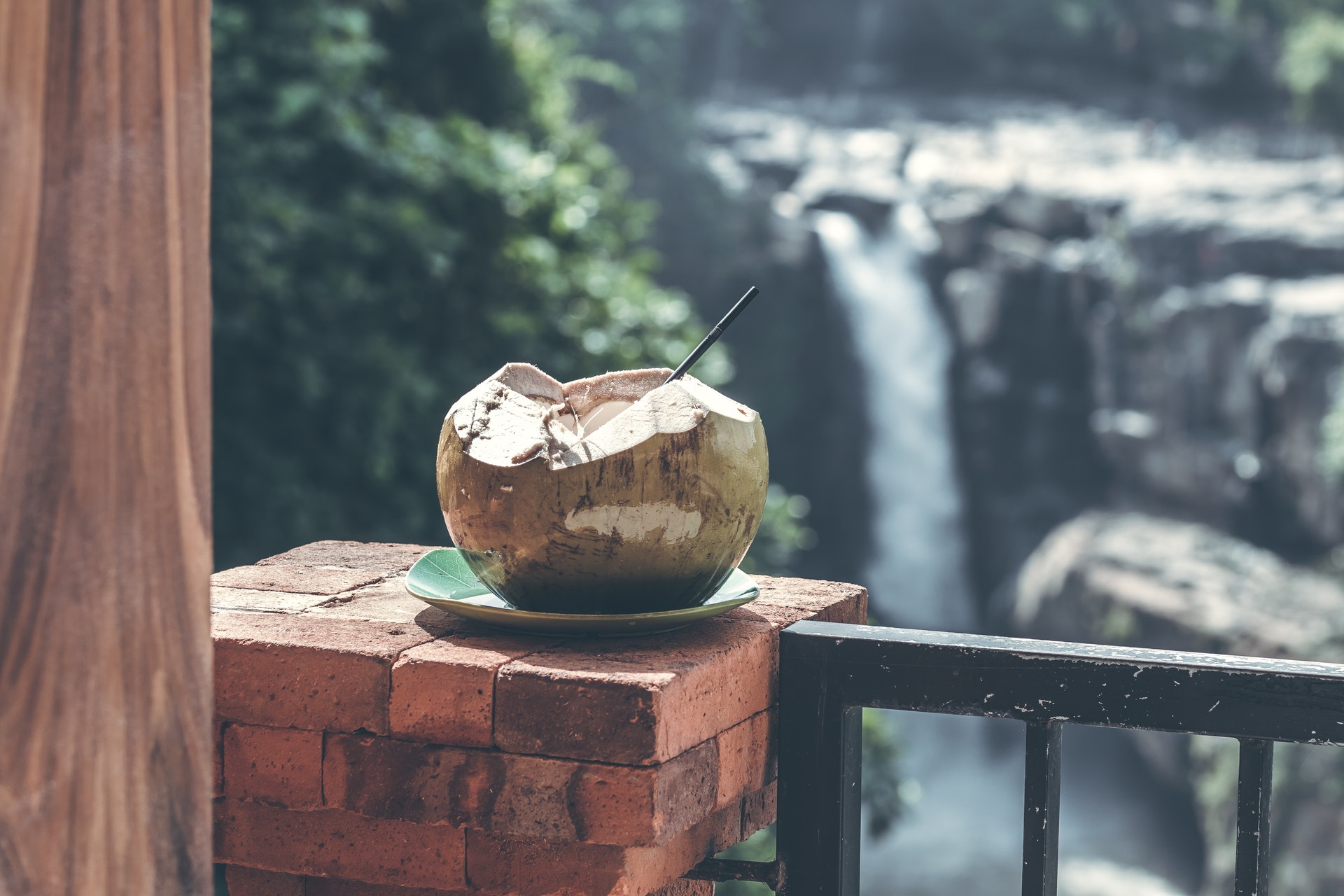 There is simplicity in all matters of life. There remains healthy food to eat. It is possible to reduce stress when handling challenges. 
And there are moments of fun to cherish forever.
Plan, do, check, and act.
Reduce the waste and clutter clogging up your mind and allow yourself the freedom to grow and learn.
And remember to smile throughout this process. Personal development is not rapid continuous improvement…it's opportunities for improvement for the long term.