Recently we were honored to be featured by former Bachelorette and Star of Love it or List it, Jillian Harris' Cruelty-Free Beauty Products!
Now, if you've been following Kapuluan for any amount of time, you know we love Animals and are strong advocates against animal testing and animal cruelty. We find it completely unacceptable in any measure to test something on an animal. If it has to be tested on anything, do you really think humans should ever use it?
Unfortunately, an extremely high number products and ingredients are actually tested on animals, and many people unknowingly consume these products.
Here's what the beautiful, expecting mother had to say:
"It's CRAZY how many beauty products are actually tested on animals … I feel a little silly for not realizing this sooner, but hey … better late than never, right? I won't get into the details of it all but let's just say that "testing" is a very kind word that is used to describe what is being done to all the innocent animals. It's definitely made me think about what products I use on a day-to-day basis. I'm still human and will never be perfect when it comes to all of this but I have found some AMAZING beauty/wellness products that I'm loving that are all 100% cruelty-free!!! … Take a peek at some of my favs below, I hope you'll love them as much as I do!"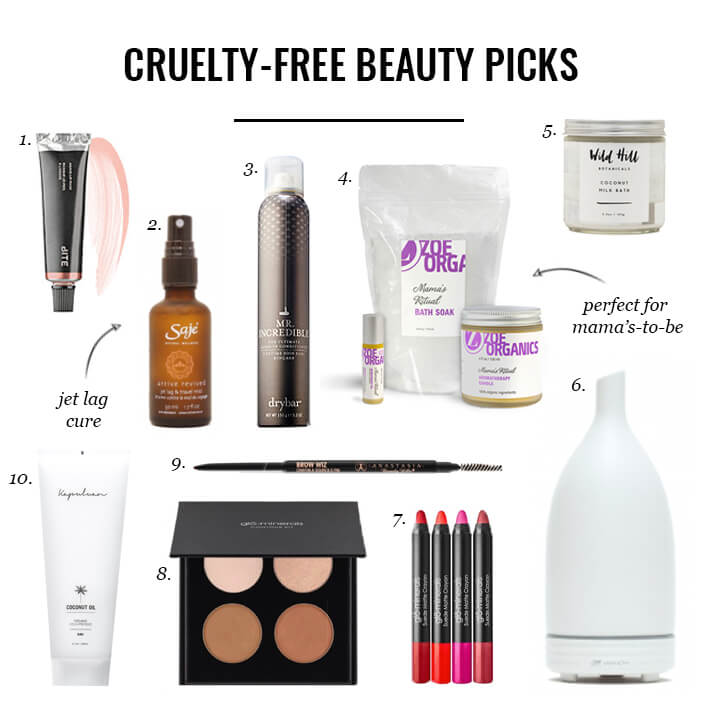 1. Bite Agave Lip Mask | 2. Saje Arrive Revived Mist | 3. Dry Bar Mr. Incredible Leave In Conditioner | 4. Zoe Organics Mama's Ritual Package | 5. Wild Hill Coconut Milk Bath | 6. Saje AromaOm Nebulizer | 7. GloMinerals Suede Matte Crayon | 8. GloMinerals Contour Kit | 9. Anastasia Brow Wiz | 10. Kapuluan Organic Virgin Coconut Oil