Have you ever tried making a DIY coconut oil deodorant?
Add it to the list of ways to incorporate the all natural superpower into your health and beauty routine.
Everyone wants good personal care habits, which definitely includes deodorant.
However, consumers have seen the recent issues with many leading brand deodorants and antiperspirants.  Some have even believed that the active ingredients in most of them – primarily aluminum compounds – can cause some types of cancer and Alzheimer's disease.
While most of the scientific research doesn't conclusively prove that's true, some simply want to buy and use products with ingredients they know, feel good about and can pronounce.  You can certainly get that when you make your own deodorant and won't worry about the idea of the store-bought kind leading to disease or illness.

Coconut Oil: Staying Fresh Naturally
The reason why coconut oil can work as a deodorant is its antibacterial properties.  But before you start slathering it on under your arms, hold on.
By itself, coconut oil doesn't stop or prevent the development of bacteria responsible for body odor, staphylococcus hominis. However, it is most effective when you can combine it with other proven odor-fighters such as tea tree oil, baking soda, or arrowroot powder. You may also not want to have the heavy viscosity of pure coconut dripping from your underarms.
What can you do instead? Take raw organic coconut oil and combine with it other natural ingredients, like those listed above and a few others, and head to the kitchen.  Follow one of these DIY recipes so that you can feel ready to face the world, full of confidence.
Note: these formulas aren't antiperspirants, so you will still need to be aware of sweating under your arms.  That's because they don't contain the aluminum compounds the prevent perspiration.  If you can handle that, then enjoy using your very own DIY deodorant.  Remember, sweating is necessary and detoxifying for your body, anyway.
Check Out Our Amazing DIY Coconut Oil Deodorant Recipe
Here are a few more recipes:
Simple DIY Coconut Oil Deodorant
From David Wolfe: A popular author, speaker and natural lifestyle enthusiast, Wolfe has created an easy-to-make DIY coconut oil deodorant.  He includes a basic starter formula, taken from the WellnessMama site, that includes the essential oil of your choosing, whether that's lavender, lemongrass, rosemary, or another suitable scent.
Ingredients
– 6 tablespoons Raw Organic Coconut Oil
– ¼ cup Baking Soda
– ¼ cup Cornstarch or Arrowroot
– Essential Oil of your choice
Steps
1. Combine the baking soda and the cornstarch/arrowroot together in a medium bowl.
2. Mash the coconut oil and the powder together with a fork.
3. Pour in 5 to 10 drops of essential oil and mix.
4. Store in a glass jar or old deodorant container.
5. Apply as usual.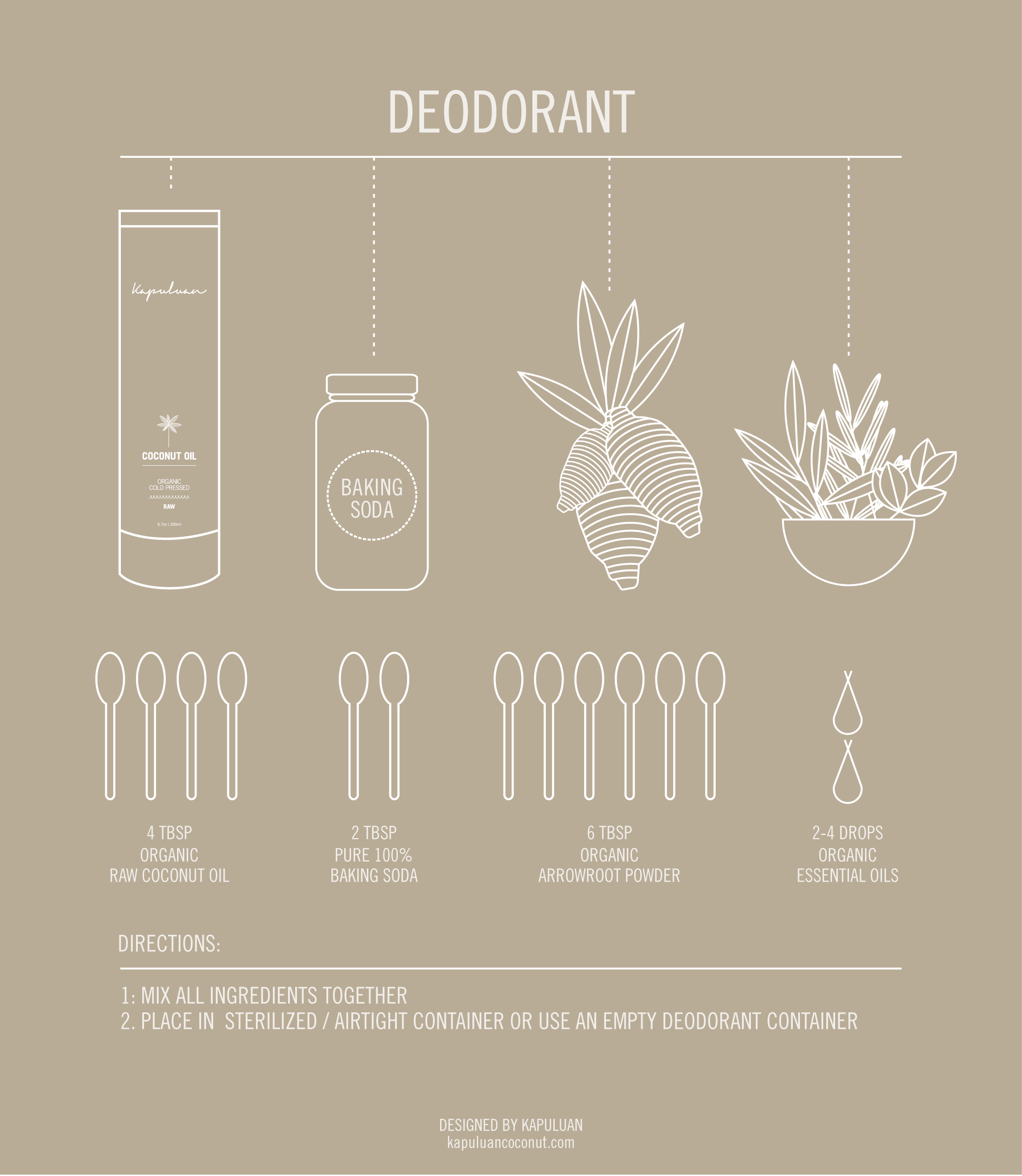 Another DIY Coconut Oil Deodorant
From The Prairie Homestead: This creation is nearly identical to David Wolfe's, but includes both arrowroot and baking soda for an extra measure of protection. The blogger of this site, Jill, recommends using tea tree (a common ingredient for such purposes) orange or frankincense essential oils.
Ingredients
– 1/3 cup Raw Organic Coconut Oil
– ¼ cup Baking Soda
– ¼ cup Arrowroot
– 4 tablespoons Cornstarch
– Essential Oil of your choice
Steps
1. Combine the dry ingredients together in a bowl.
2. Cut the coconut oil (like you would a pie crust or biscuit dough) into the dry ingredients with a fork or pastry cutter.
3. Add 5 to 10 drops of essential oil.
4. Depending on your preference, add more coconut oil or baking soda.
5. Apply as usual.
Homemade Deodorant That Looks Store-Bought
From ThankYourBody: For convenience and probably out of habit, most people like to use deodorant in stick form rather than rub it under their arms like a cream.  Here's a solution to that concern, and it's also great for sensitive skin.
Ingredients
– 1/3 cup Raw Organic Coconut Oil
– 3 tablespoons Beeswax, grated or in pellet form
– 2 tablespoons Shea Butter
– 1 to 2 tablespoons Baking Soda (adjust to less for skin sensitivities)
– 1/3 cup Arrowroot
– 10-15 drops Essential Oil (try 5 of tea tree oil, then 5 to 10 of your favorite)
Steps
1. Combine the coconut oil, beeswax and shea butter in a small saucepan over low heat, stirring continuously and melting completely.
2. Remove from heat, then thoroughly whisk the baking soda and arrowroot into the mixture. Add the essential oils. Be mindful that it will thicken quickly.
3. Pour the mixture into the deodorant containers, and allow to harden and cool for a few hours. Cap them once they're ready.
Try your own DIY coconut oil deodorant, knowing that you'll not only feel fresh and confident, but you won't have to worry about its possible health risks.