What is Shea butter?
Organic shea butter has been used since ancient times as a natural moisturizer. Today, shea butter is still one of the best natural skin care ingredients available. Shea butter comprises 90% fat, 10% protein, and 0% moisture. Shea butter is a solid white wax that comes from the nut of the Shea tree or vitellaria. These trees grow exclusively in Africa. They produce nuts that contain a lot of nutrients. Shea butter is good for us because it is full of essential oils. Essential oils are necessary for our body because they help to keep our immune system strong. 
Due to its nourishing emollient properties, shea butter is an excellent moisturizer. Shea butter is also a healing agent as it is anti-inflammatory, antibacterial, antifungal, antioxidant, and antimicrobial.  
In addition to being a great moisturizer, shea butter is known for its ability to reduce pores and prevent aging. It is known for its high levels of essential fatty acids, amino acids, minerals, antioxidants, and vitamins. Shea butter contains Vitamin E, magnesium, iron, zinc, copper, phosphorus, selenium, and potassium. Shea butter is also great for skin health because it helps prevent acne breakouts and heal scars. It can be used on all skin types, including dry, oily, sensitive, or combination skin.  Shea butter is also gluten-free.
How is Organic Shea Butter Used?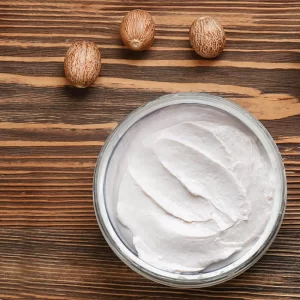 When applied directly to the face, shea butter helps to keep the skin soft and supple while reducing fine lines and wrinkles. Shea butter works by penetrating deep into the dermis layer of the skin. It is an excellent moisturizer for dry or aging skin. It also absorbs quickly into the skin without leaving any greasy residue. Shea butter is so effectively absorbed into the skin that you don't need to use it much. Just a little bit will leave your skin feeling smooth and hydrated.
Shea butter also benefits those suffering from eczema, psoriasis, acne, and dermatitis. Shea butter is especially helpful for dry skin conditions. When applied regularly, it reduces inflammation and improves the appearance of scars.
Today, shea butter is used in cosmetics, food, medicine, and even clothing. It is commonly found in lip balms, lotions, creams, shampoos, conditioners, hair masks, and facial scrubs.
There are many ways to use shea butter. You can apply shea butter directly onto your face, mix it with other oils like coconut oil, or even add shea butter to your homemade body lotion recipe. Here are some ways you can incorporate shea butter into your daily routine.
1) Use it as an all-over body moisturizer. To use it as a body moisturizer, apply it to your skin after cleansing with warm water. Massage gently until you feel that it is well absorbed by the skin. Follow this procedure once or twice daily, depending on your skin's needs.
2) Add it to your hair conditioner. It is a great way to add shine and moisture to your hair without harsh chemicals or heat styling tools.
3) Mix it with olive oil and massage it on your feet. This will soften your calluses and make them feel smoother.
4) Apply shea butter to your lips before going out. This will protect your lips from chapping and cracking.
5) Make a mask using shea butter and honey. The honey will act as a natural exfoliant and the shea butter will provide extra moisture.
6) Apply it to your dry cuticles. Rubbing shea butter over your nails will help to soften them and remove dead skin cells.
7) Put a small amount of shea butter on your elbows and knees when they start to get sore. This will relieve pain and promote healing.
7) Rub it on your hands before going to bed. Shea butter is naturally hydrating and soothing to the skin. You'll wake up with softer, smoother hands.
8) Use it as a shaving cream. To do this, simply rub a few drops of shea butter between your palms and then shave. Shea butter has been shown to have antibacterial properties, making it a good choice for shaving.
9) Massage it into your scalp after washing your hair. This will help to prevent dandruff and reduce itching.
How to Store Shea Butter
Store shea butter in a cool place away from direct sunlight. Shea butter should be stored in a dark glass jar. You should store your shea butter in a cool, dry place. If you keep your shea butter in the refrigerator, wrap it up tightly. This will help prevent moisture loss. Shea butter does not need to be refrigerated but if you want to keep it fresh longer, put it in the freezer.
What's the Difference Between Organic and Non-Organic Shea Butter?
There are two types of shea butter: organic and non-organic. Both contain similar amounts of saturated fats, but organic shea butter contains more nutrients. Non-organic shea butter is usually refined and bleached.
Organic shea is grown without pesticides, herbicides, fungicides, or fertilizers. The butter is produced by hand, and no harmful chemicals are used during production. Organic shea butter is not only good for your skin, but it is also better for the environment.
Non-organic Shea butter is produced using chemical solvents such as hexane. Chemical solvents are toxic and dangerous to humans and animals. They pollute our air and water supplies and destroy the soil and vegetation around them. So if you want to be sure that you're getting the best quality product possible, look for organic shea butter.

Can Shea Butter Save Our Planet?
We are living in a world that is increasingly polluted. This has led to a rise in the number of diseases caused by pollution. Organic products do not contain chemical substances and therefore do not harm our health.
There are many benefits of using Shea butter. One of the biggest reasons we should use this product is because it saves our planet. It's a natural product and doesn't require any chemicals or artificial ingredients to be made.
Shea trees are essential, particularly for their climate change adaptation tools. They play a crucial role in livestock protection and the global climate. The importance of Shea trees for climate change adaptation lies in their ability to mitigate the impacts of warming on the local vegetation and soil, thereby maintaining stable productivity of soils and improving the resilience of local agricultural systems and ecosystems. Shea butter is also good for the environment because it does not require pesticides or chemicals. It is also biodegradable and can be composted.
Our mission at Kapuluan is to differentiate our products from most others on the market. Other companies struggle to differentiate their products because they use artificial colors and fragrances. Our products are free from these things and other chemicals that affect our skin and health. The beauty products of Kapuluan are designed to make your skin look beautiful. Our products have a great fragrance that will not affect your senses. It is important to us that all these products are truly environmentally friendly. In a world where anything can be harmful, we ensure that our products are safe for everyone who uses them. We want you and the people in your life to have a chance to experience the beauty that our products can bring.
At Kapuluan, we have a solid commitment to local farmers and suppliers and are fully committed to sustainability. for every purchase, we plant a coconut palm tree.
We work with small farms that grow their own crops and support fair trade practices so that farmers receive a living wage. We also ensure that our products are fully vegan and free from animal testing and cruelty.
Everyone deserves access to high-quality, natural beauty products. We aim to create products that are kinder to people and the environment.
What's the Difference Between Organic Shea Butter and Coconut Oil?
Shea butter is very similar to coconut oil, but some differences exist. Shea butter has a higher melting point than coconut oil and different chemical composition. It contains more saturated fats, which makes them harder for the body to absorb. It's also more stable at room temperature.
Coconut oil has a higher melting point than Shea butter. This means that it will melt at body temperature, which makes it easier to apply. Shea butter stays solid at room temperature.
Both oils are great for your skin. However, one is more suitable for certain conditions than the other.
If you have dry skin, then coconut oil is a fine choice. It is heavier than Shea butter, so it sinks into the skin faster.
However, shea butter works on all skin types. It absorbs quickly and helps keep your skin moisturized. It is also lighter and less likely to cause breakouts.
Both of these oils have their own benefits. They can be used in many ways and have health benefits. However, choosing one over the other comes down to personal preference. If you prefer a softer texture, then go with coconut oil. If you like a firmer consistency, then choose Shea butter. Both will do wonders for your skin!
Where Can I Buy Shea Butter?
You can buy Shea butter at your local grocery store. For quality shea butter, though, You're best off buying it online from a reputable supplier.