Coconut Oil Makeup Remover: Natural, Affordable, and Effective.
A good makeup remover is a necessity for a skincare routine. The effects of makeup remover on the skin can affect almost every other step in a beauty routine and the skin of the face itself. For women, finding an effective and natural makeup remover can be a daunting task not to have to cope with the effects of abrasive and harsh chemicals that leave the skin dry and the lashes brittle.
Makeup is unlikely to produce the desired effects if the skin it is applied on isn't healthy, clear, and well taken care of. The first rule to having 
healthy and smooth skin
is to switch to natural products. Coconut oil is the perfect alternative to many artificial makeup removers
. 
As one of the most
versatile, natural, and healthy products
, coconut oil, in its original form, is used for many purposes. Coconut oil's proven moisturizing, soothing, and nurturing properties make it the perfect natural makeup remover.
Most may disregard the importance of a good makeup remover. But the appearance and health of the skin heavily rely on the makeup remover's quality and effectiveness.
Why Coconut Oil Makeup Remover?
Coconut oil: easy to use, safe, effective, fragrant, affordable, eco-friendly, nurturing, and beautifying
.
Let's look at coconut oil makeup remover benefits in detail.
An Effective Makeup Remover
Coconut oil removes makeup quickly and easily, almost effortlessly. Unlike makeup wipes or typical liquid makeup removers, it doesn't require skin rubbing or tugging. This can age and wrinkle the skin. Additionally, it is even effective for the
removal of waterproof mascara
 or 
long-lasting lipstick
. Coconut oil can break up (solubilize) water-resistant substances. This is commonly used in mascara, eyeshadows, some foundations, and other products labeled as waterproof. This specific property makes coconut oil very effective in easily and quickly removing makeup.
Nourishes, Moisturizes, and Smoothens the Skin
Coconut oil is excellent for the skin because of its
 moisturizing and soothing properties
. When used as a makeup remover, it's practical and will leave the skin softer and more youthful-looking.
It is perfect for sensitive skin around the eye area. Even though it is the most delicate part of the face, most makeup is concentrated there – eyeshadow, eyeliner, and mascara. Products wipe off easily without repeated rubbing, leaving the face red and dry.
Besides dissolving the makeup efficiently, coconut oil will restore the skin around the eyes, making it look more vibrant and healthy. This also applies to other areas of the face.
With the regular use of coconut oil as a makeup remover, the usual dryness and redness caused by chemicals will slowly dissipate. This use stimulates skin recovery and ultimately leads to healthy, glowing skin.
As it is highly moisturizing, coconut oil can benefit many skin issues. It can soothe psoriasis, allergies, and skin rashes. Some studies confirm that daily coconut oil on the skin increases
hydration and skin elasticity.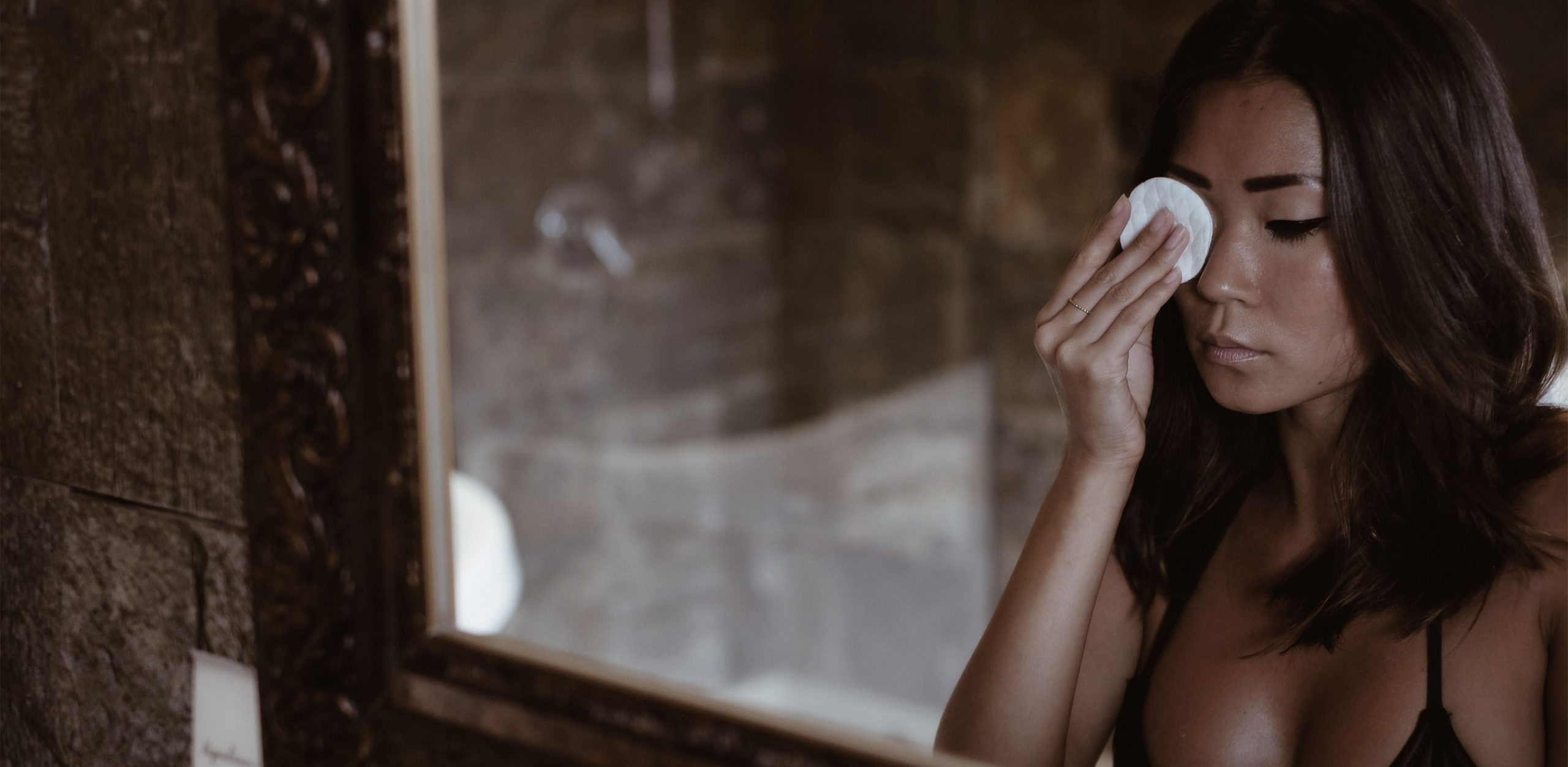 Antibacterial Properties
Coconut oil is 100% fat, composed of a combination of different healthy
 fatty acids
. The most dominant one is lauric acid, a component that has
antimicrobial and anti-inflammatory properties
. With this in consideration, coconut oil has been used as an
 effective treatment for acne
. It's also a perfect makeup remover for 
skin prone to acne
and acts as a prevention for skin outbreaks common in many women.
The bacteria 
propionibacterium acnes
is found naturally on the skin, but when they multiply, acne develops. Studies conducted on acne-prone skin found that lauric acid reduces inflammation by reducing the number of bacteria present, thus diminishing the possibility of acne development.
Pleasant, Tropical Scent
We all love a sudden aroma-induced memory of a relaxing beach day. Coconut oil smells like a tropical island on a summer day. Plus, it has a natural scent that trumps any artificial fragrances used in skincare products.
An Eco-Friendly Alternative
For some, makeup removal wipes are the most suitable product for makeup removal. They are easy to use and don't require cotton pads or balls or a separate makeup remover, but they are harmful to your skin and planet earth. An estimated 1.3 billion wipes are tossed daily, a devastating number for the environment. Wipes, cotton pads, and other one-use materials are not eco-friendly and contribute to global pollution.
Even if you use cotton pads when removing makeup with coconut oil, it will probably take no more than two cotton pads to get the job done. This remains significantly lower than how many you'll need when using traditional makeup removers. However, you can always use reusable pads if you prefer.
Switching to 
coconut
oil 
as a
makeup remover
is essential for the sake of your skin and the planet! 
An Affordable Makeup Remover
You need no more than a pea-sized amount of coconut oil for a single session of makeup removal. Coconut oil can be purchased in different packaging and amounts. If you already use coconut oil for other purposes, you can buy your preferred product and put some of it in a small container to keep in your bathroom. An economical, big jar of coconut oil can be used over a year for the purpose of removing makeup. It is an affordable option that can be purchased in bulk if used for many other purposes.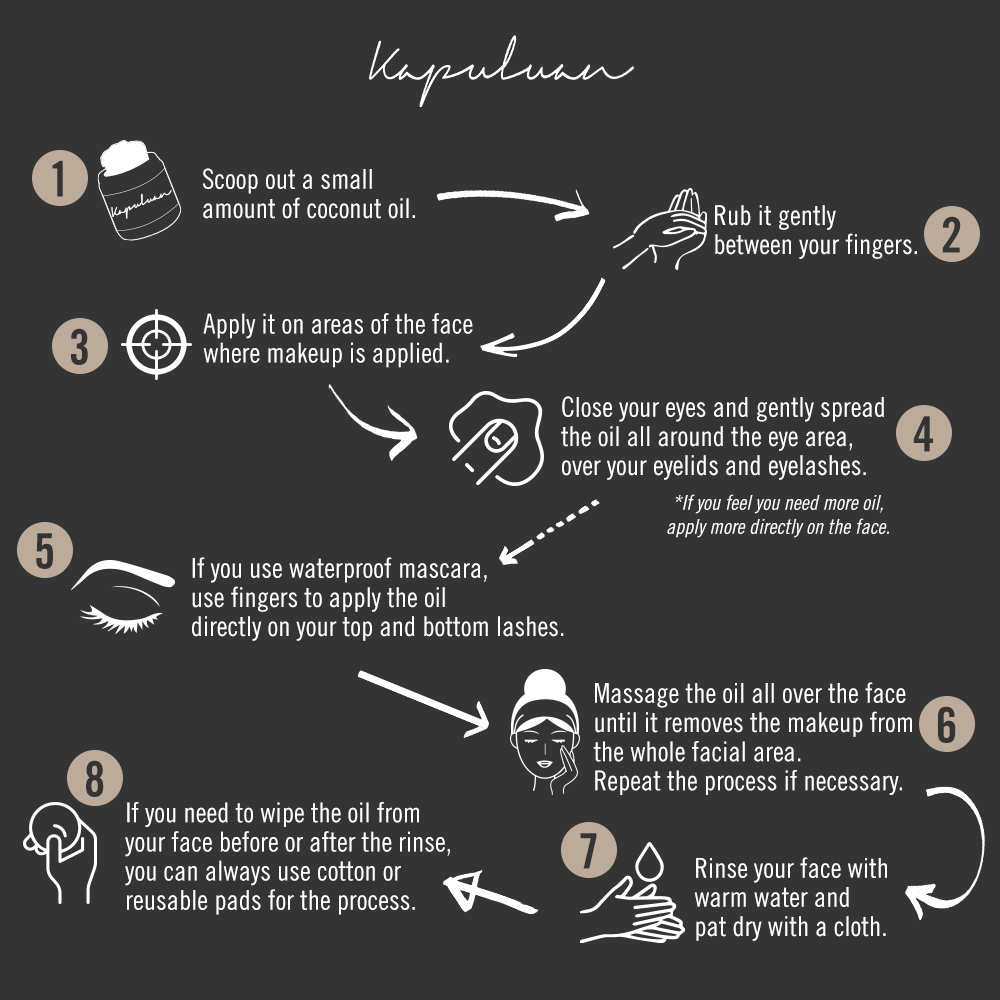 How to use Coconut Oil as a Makeup Remover
When using coconut oil to remove makeup, you can use only a small amount of the oil; no cotton pads or washcloths are required. However, if it makes it more convenient for you, you can always use additional products. 1. Scoop out a small amount of coconut oil in solid form; a pea-sized amount should be sufficient. Rub it gently between your fingers until it melts, and apply it on areas of the face covered with makeup. The makeup will break up completely when you rub it gently over the face's surface. 2. Close your eyes and gently spread the oil all around the eye area, over your eyelids and eyelashes. There should be sufficient oil so you can move your fingers around gently without tugging on the skin. If you need more oil, apply more directly on the face. You should start to feel the oil melting the makeup on your face. If you use waterproof mascara, use your fingers to apply the oil directly on your top and bottom lashes. 3. Massage the oil all over the face until it removes the makeup from the whole facial area. 4. Rinse your face with warm water and pat dry with a cloth. You can always use cotton or reusable pads if you need to wipe the oil from your face before or after the rinse. Either way, the makeup should come off seamlessly. Depending on how much makeup you have applied, you may need to repeat the process to clean your face thoroughly.
Note on Face Washing
Using this method does not require additional face washing. Coconut oil acts both as a makeup remover and a facial cleanser. Not washing the coconut oil residue off your face with a cleanser keeps its moisturizing and soothing benefits. If you do not prefer having the coconut oil left on your face, rinse your face with warm water several times and pat dry with a towel until it is dry and oil-free. Your face should glow and appear refreshed and moisturized. Finish the process by putting on a serum or moisturizer that is part of your daily skincare routine.
Choosing Your Product
To enjoy all the benefits listed above, choose a good quality product to apply to your skin. As the popularity of coconut oil has skyrocketed in the past decade, coconut-derived products have saturated the market, but not all of them are safe to use.
You should always choose 
coconut
oil
labeled as cold-pressed, unrefined, extra-virgin, and organic.
Storing the Coconut Oil
When stored at room temperature, coconut oil is in solid form. If the surrounding temperature hits 76 degrees Fahrenheit or higher, the coconut oil will melt and become liquid. As it is far more convenient for coconut oil to be solid for the purpose of using it as a makeup remover, it is recommended to be stored in a cool and dark place.
The ability to change its state is another great advantage of coconut oil as a makeup remover, as it can be used in liquid or solid form, depending on the user's preference.
Join our community on INSTAGRAM!